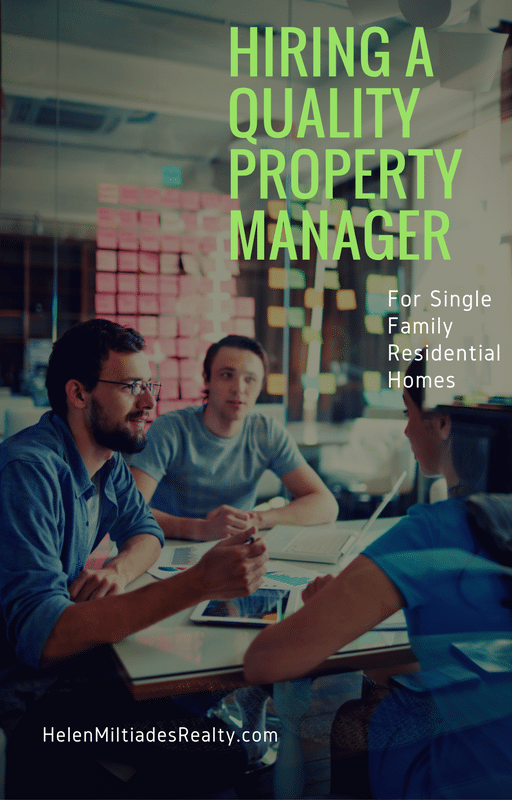 Hiring a great property manager is a good option to help you take care of investment properties when you don't have the time or would like to be as hands off as possible with your rentals. The right property manager can help to protect your investment while achieving reduced vacancy time and consequently increase income. They will bring in quality tenants with a strong screening process and oversee maintenance issues. The ideal property manager will make your role as a landlord much easier.
How do you find this quality property manager? Here are some things to look for:
Your manager should be located close to your rentals. The property manager will need to be able to address maintenance issues or emergencies in a timely manner. If your property manager is within 10 minutes of your property you are set. If you have multiple properties in several locations consider a manager with different offices.
They should inspect the property on a monthly basis. When a property is occupied this will, of course, be an external inspection to help ensure the property is being well maintained. An unoccupied property would include interior inspections and preservation measures to keep the home ready for a quick renter move in.
Make sure your property manager is certified. This will help to assure that the manager knows the laws and regulations in the city that your property is in and is well trained in property management. There are two companies that provide certification, the National Association of Rental Property Managers and the Institute  of Real Estate Management. These organizations also provide courses to keep property managers well educated and up-to-date in their field.
Use a manager that uses technology designed for more efficient managing. In addition to having the proper tools to perform a top level service, they should have a great web presence with great search engine optimization so tenants searching for properties online will find the postings listed by your manager first.
Ask how many properties they are currently managing. You want to know they have ample experience ,but that they also won't be overloaded taking on another property.
Ask about their fees and have set expectations clearly communicated for how fees of tenants are managed. For example setting aside income from renters for maintenance and switch over costs.
Ask about their tenant screening process. If you have a screening protocol you want  for your property a quality manager will be willing to adjust their usual practices for you. Another great thing to find out is their turnover rate in the properties they currently manage, it will help give you an idea of their ability to find quality tenants.
Interview more than one property manager. Make sure you are getting the best fit for your hard earned investments.
Leaving your investment properties in the hands of a full-service manager is entrusting someone with a lot. Don't be quick to hire just anyone. I provide quality rental management services in Savannah. Give me a call today.