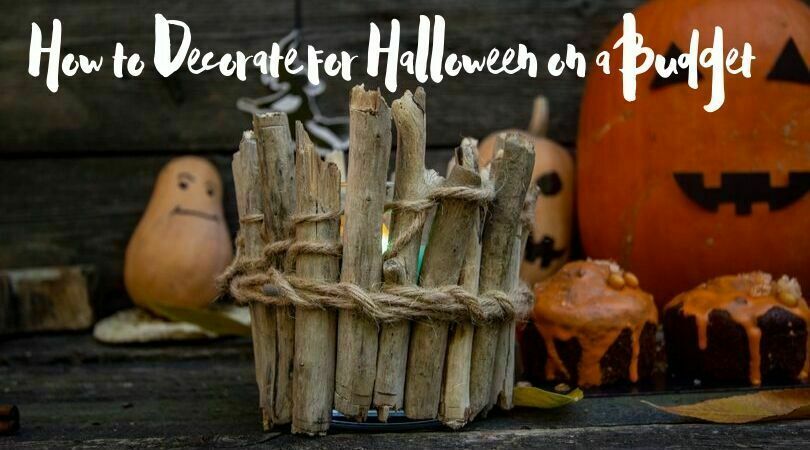 Bring a lot or a little scare to your home for Halloween with these budget friendly decorating tips and ideas!  Afterall, Halloween is that unique time of year when it's fun to be scared, but also allows you to be creative in the way you decorate.
1. One of the most inexpensive ways to add some Halloween (or Fall, or Thanksgiving) to your front porch is to stuff your own scarecrow!  From around your house, find an old pair of jeans, a sweatshirt, a plastic grocery bag, a plastic Halloween mask (dollar store), and either newspaper, leaves, or straw.  Start by stuffing the sweatshirt, jeans, and plastic bag with either the newspaper, leaves, or straw, until they are full.  The plastic bag is going to be the head, so tie the handles closed to make a ball.  Simply put the Halloween mask over the bag, place the jeans in a sitting position (maybe on a hay bale?) and set the stuffed sweatshirt on top.  Attach the head, (maybe add a hat), and now you have your Halloween scarecrow!  This is a great activity to get your children involved in, and is fun for the whole family!  Not to mention, so inexpensive!
2. Add the feel of "caution" to the air with rolls of  yellow caution tape and put it up around the perimeter of your home.  The caution tape is sold at most hardware stores, and is relatively inexpensive.  The addition of a sign that says "Enter at your own risk" or "Grave Digging" will add to the feel of Keep Out, Danger!
3. You can enhance the spooky feel of your home by replacing your outdoor light bulbs with a black light bulb, then place some glow-in-the-dark skeletons or spiders nearby and watch as your front porch is transformed!  Check your local dollar store for inexpensive Halloween items to add to your display.
4. A fun activity that you can do with your children or as a family is to cut out Halloween decorations from black construction paper and attach them to your windows.  Construction paper is very inexpensive, and at night, your windows will show a Halloween scene like black cats, bats, or ghosts when the lights are on inside!
5. If you like using pumpkins to decorate for Halloween, here's a tip to make them last longer!  Instead of carving the pumpkins, use acrylic paint to make faces, scenes, and spooky sayings.  This will make your pumpkins last much longer, and you won't have the carving mess to clean up!  However, this also means you won't have any pumpkin seeds to bake!  When displaying your pumpkins, using an odd number in a grouping will make them stand out better.
The most budget friendly place to start is around your house.  Check first to see what you already have that you could use in your decorating.  Also, check your local dollar stores, as the selection of seasonal items is usually pretty good!
What inexpensive Halloween decorating ideas or tips do you have?  Happy Halloween!