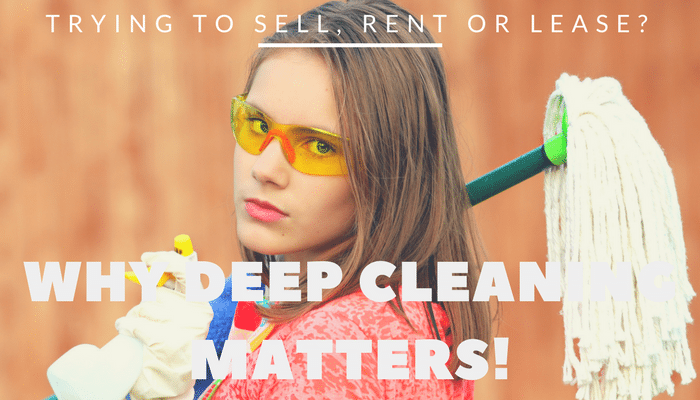 The best way to get a home rented to what will hopefully be long term tenants is to create an environment in the property where renters can imagine moving their belongings in and creating a life there.
If all prospective tenants see is a home that is in okay shape but not great shape it can be difficult to find someone to sign that lease. A freshly deep cleaned property with neutral paint colors will help renters see the best side of a property and envision what living there could really look like for them.
Read More: Tips to taking care of Property Maintenance
If there is carpet in the property, making sure it is professionally cleaned and in its best shape is crucial. Carpet is not the most popular or trendy of floor choices currently and tenants will notice any stains or repairs that might need to be made. It can be an immediate turn-off to see the dingy or stained carpet in a rental home and will take longer to rent the property.
Consider calling in a professional carpet cleaner to get the job done right. There are many rentable carpet cleaning machines to DIY the cleaning yourself, but it is very easy to over saturate the carpet and make the floors look or smell worse than when you started. It is best to hire a professional carpet cleaner with a satisfaction guarantee and who offers repairs, stain removal, and odor removal.
Related Post: 4 Things Home Inspectors Look for that could Kill Your Sale or Lease
Tile grout is another item in a home that, if it is not nice and clean, can make a home look tired, dated, or not well taken care of. Make sure to get the grout deep cleaned in the home. It will give an appearance of a well taken care of the property and that the landlord really does care about providing a quality living environment. Hire a professional to clean the grout and they can seal it for you as well to help prevent any staining that may happen while renting the property.
Walls that go unpainted for long periods of time go unnoticed by someone living there, but new tenants will pick up on dingy tired walls right away. Fresh neutral colored paint on the walls along with all nicks and holes repaired will add to that new and fresh feel that a prospective quality tenant is looking for.
Some other areas to focus cleaning attention on include windows and window sills, appliances, caulk lines especially around tubs and showers, flower beds and gardens, and light fixtures.
Read More: It's a Good Time to Be a Landlord in Savannah
Getting a property in top shape and ready to show to potential buyers can be a lot of work, but with the right property manager, it doesn't have to be. A quality property manager can help you get the right people hired to have your property looking fresh and new and get a lease signed in no time.
Are you struggling to rent a property you own or looking to release some of the duties of being a landlord? We can help make rental property ownership easier. Please feel free to browse our website or contact us for more information about our property management services.