Savannah has long been a favorite city to settle into for many, with its historic charm (one of the oldest cities in the country) and its mix of gorgeous historic architecture and modern amenities. It's no wonder that Southern Living Magazine has named it number 2 three years straight on their list of best southern cities to live in.  
Recently Savannah has seen a surge of young families moving in to enjoy all Savannah has to offer. Here are the top five neighborhoods for families in Savannah.  Content deemed reliable and accurate at the time of posting. Prices may have changed since publishing.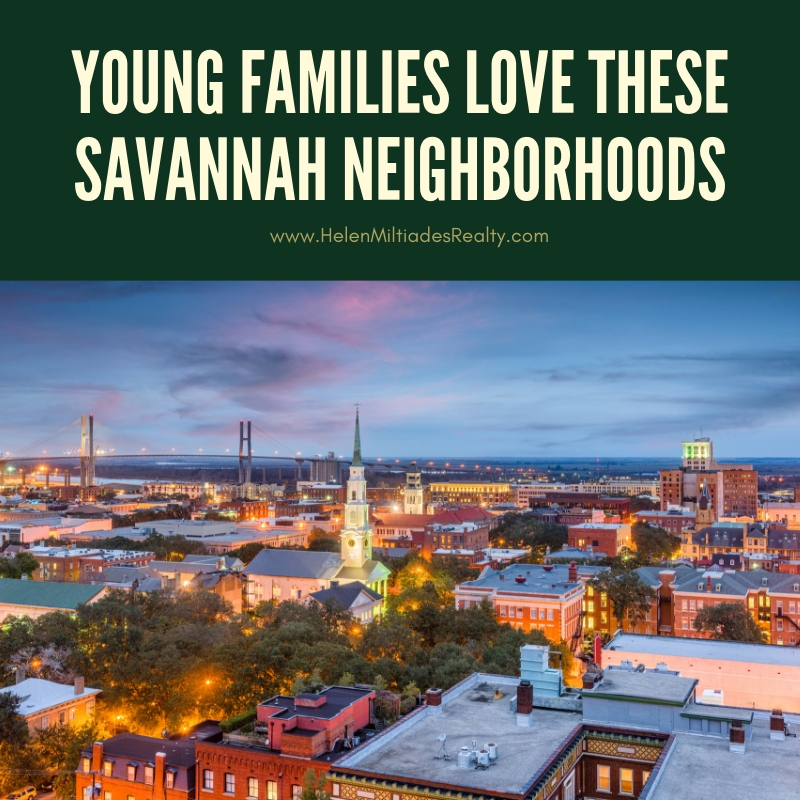 Bacon Park a.k.a. 
Sandfly
Located near the Isle of Hope and Moon River areas, this neighborhood is quickly growing. You will find Bacon Park Golf Course, Lake Mayer, Chatham County Aquatic Center, Oglethorpe Mall, and Sandfly Bar-B-Q. It is a great place for sports and recreation as well as shopping and good eats. Also nearby is the Wormsloe Plantation the home of Noble Jones, one of the first settlers from England. Enjoy a colonial reenactment or guided tour at the Plantation.  
Median home price is $172,600 and median rent is $958. 
Gordonston
Named for the Girl Scouts of American founder Juliette Gordon Low who made her home here. This neighborhood started as a bedroom community just outside of Savannah and is now part of the city as it has grown to include it. This is a quiet and secluded piece of the city still today making it highly desirable among young families. Residents love the Juliette Low Park and Savannah Golf Club, a members only club just outside of the neighborhood.  
Median home price is $110,600 and median rent is $895.  
Parkside
An affordable neighborhood with a great location. Parkside is home to Daffin Park offering playgrounds, basketball courts,  swimming pool and more. Close by is Grayson Stadium home of the Savannah Bananas minor league baseball team. There are shopping and dining options all around  including Whole Foods, IHOP, and Home Depot. It is a great midtown neighborhood not too far from urban and suburban amenities.  
Median home price is $110,600 and median rent is $895. 
Victorian District
On the south side of the historic downtown area this is the place to find some of the most interesting housing in Savannah. The amazing Victorian-style homes here are more expensive than other areas, but well worth the price. Neighborhood highlights include Forsyth Park with amazing fountain and farmers market, King-Tisdell Cottage full of African-American culture from Savannah, 700 Drayton a spot for adults to enjoy nightlife, and Blowin' Smoke Southern Cantina a family barbeque restaurant.  
Median home price is $247,400 and median rent is $889. 
Windsor Forest
A quiet neighborhood with a suburban-like setting offering homes with large square footage and big yards. Windsor Forest has excellent shopping at Savannah Mall including Dillard's, Target, and Bath and Body Works. Enjoy a movie at AMC Classic Savannah 11. If you enjoy the outdoors you will love the 51 acres of Joseph Tribble Park. 
Median home price is $158,800 and median rent is $987. 
Are you looking to buy or rent a home in Savannah? I am happy to help your family find the best home to suit your wants and needs. Contact me anytime.